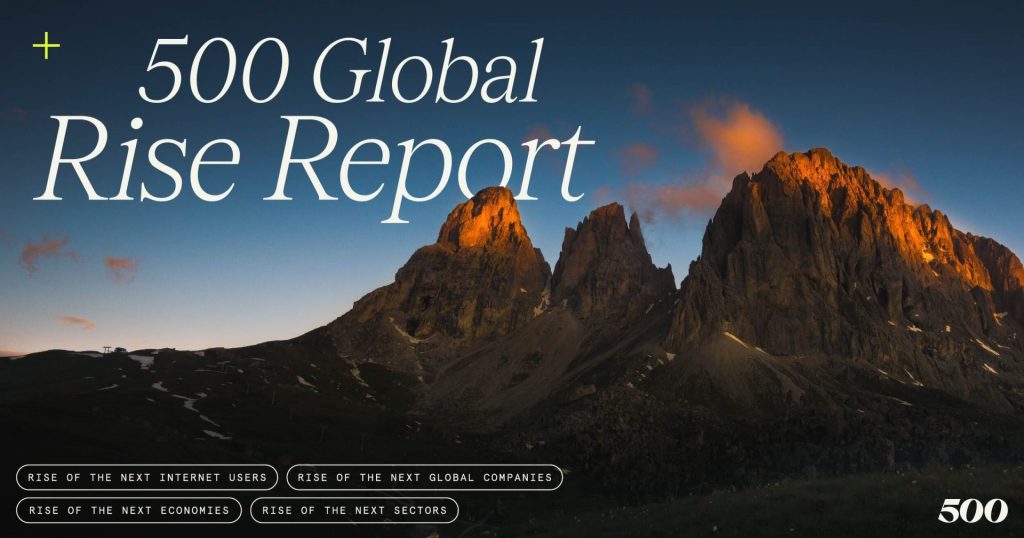 Rising together
Need a headstart to navigate the next decade of global technology innovation?
For over a decade, 500 Global has not only invested in 2,800+ companies across 80 countries, we've exchanged research, insights and perspectives with changemakers — including entrepreneurs, investors, operators, academics and policymakers — to continue to hone our investment insights, as well as to further the conversation around uplifting people and economies around the world through entrepreneurship.
We're sharing it with you in the 500 Global Rise Report: a collection of data, insights and perspectives to invite more stakeholders into the conversation.
"We hope the insights and perspectives from this research will spur important discussions among stakeholders — governments, asset allocators, investors, and innovators — to mobilize a broader innovation and development story, and an inclusive one. We want the Rise Report to help more people to win across global economies, and to create lasting change for a better world." – Khailee Ng, Managing Partner, 500 Global
The report covers four narratives on the next decade of global technology – Rise of the Next Internet Users; Rise of the Next Global Companies; Rise of the Next Economies; Rise of the Next Sectors – and addresses some of these questions:

How has the global internet user base grown over the last decades?
How is this expected to evolve over the next decades?
How does growth in internet users drive value creation?
Where and how do we think this value will accrue?
Is it important for a tech company to operate with a global lens?
How does this apply to companies at different stages of growth?
Are there insights we can gain from studying the tech giants?
Which specific economies should we pay attention to in the next decade?
Are there economies outside of economic giants, the US and China, that are positioned for outsized growth?
Our analysis surfaced 30 economies that we believe are large, fast-growing and full of potential; we present the Rise 30 Economies.
What +$1B sectors rise in each of the Rise 30? And in what sequence do these +$1B sectors emerge?
Are there patterns that can be observed across the Rise 30 that can inform the identification of opportunities in other economies?

Download the 500 Global Rise Report here.
Other stories you may have missed