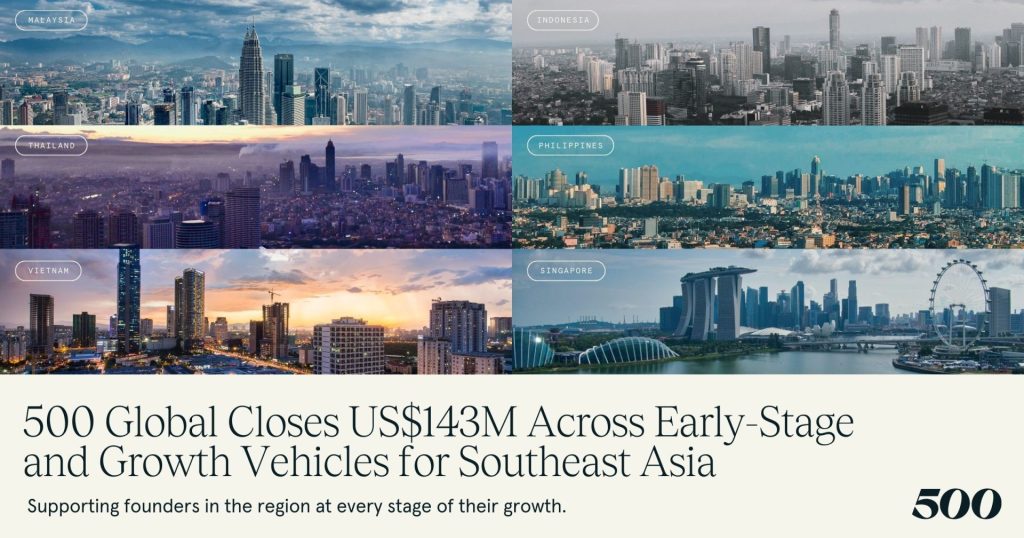 Supporting tech founders from pre-seed to pre-IPO
500 Global announced the successful close of US$143 million across its largest Southeast Asian early-stage fund to date, 500 Southeast Asia III, L.P. (500 SEA III), and its growth investment vehicle for Southeast Asia. The new early-stage and growth vehicles demonstrate the team's commitment to supporting founders in Southeast Asia from pre-seed to pre-IPO.
Limited partners (LPs) across its early-stage and growth investment vehicles include a sovereign wealth fund, public and private pension funds like Khazanah Nasional Berhad, Kumpulan Wang Persaraan (Diperbadankan) [KWAP], and Employees Provident Fund (EPF). A university endowment, family offices of prominent global investors, and portfolio companies valued at over US$1 billion from 500 Global's first Southeast Asia early-stage fund have invested as LPs as well.
500 SEA III is 500 Global's third Southeast Asia-focused early-stage fund, with each successive fund having nearly doubled in size since 2014. Originally targeted for US$75 million, 500 SEA III closed at US$100 million with over half of the fund coming from returning LPs.
The early-stage fund will focus on investing in businesses and AI-enabled technologies that advance rural digitalization, sustainable cities, human and machine productivity, healthcare, food security and financial inclusivity.
500 SEA III aims to invest in 100 pre-seed to Series A startups, providing first checks between US$250,000 – US$500,000 across Malaysia, the Philippines, Vietnam, Thailand, Singapore, and Indonesia.
500 Global's past Southeast Asia investments have included US$5 million – US$20 million checks in Series C to D rounds of portfolio companies such as Carousell (2018), Carsome (2021), and most recently eFishery (2023), and has in the past invited their LPs to co-invest alongside them in select opportunities.
The team is expanding its growth investing capabilities with the new vehicle. Most recently, 500 Global announced the appointment of the firm's Partners in Southeast Asia – Saemin Ahn, Shahril Ibrahim and Martin Cu – who currently lead 500 Global's growth equity practice across the region, supporting and nurturing startups at every stage of their growth.
Vishal Harnal, Managing Partner, 500 Global: "We have seen our platform produce a pipeline of high-quality growth stage opportunities which we can underwrite with the added diligence of knowing the companies and founders over the years. While we developed our growth stage capability investing over the years, we have also added resources and new partners in line with our aim to support founders from pre-seed to pre-IPO."
Khailee Ng, Managing Partner, 500 Global: "We believe the next technology giants are being built now. History shows us that cyclical downturns are typically succeeded by periods of high growth surpassing the preceding cycles. Having been investing in Southeast Asia now for over a decade, we learned a thing or two about supporting outstanding founders and companies to ride the next 10 years, to generate highly competitive returns for our institutional investors and portfolio companies."
Christine Tsai, CEO & Founding Partner, 500 Global: "We continue to believe in the strong potential and opportunities in Southeast Asia. With a global portfolio of over 2,800 companies across more than 80 countries, we believe that the founders in Southeast Asia will benefit from one of the few truly global venture platforms with deep local roots and in-market expertise. We're confident that with access to insights, connections, and capital, this can help the next generation of Southeast Asian founders build global tech giants."
Over the past decade, 500 Global has backed over 340 companies across Southeast Asia. The firm is recognized as a leading technology investor in the region, having invested early in companies valued at over US$1 billion such as Grab, Bukalapak, Carsome, Carousell, FinAccel, and eFishery. 500 Global has a rich history of supporting early-stage founders in Southeast Asia, bolstered by its deep in-market expertise that forms the foundation of the firm's multi-stage platform.
Read more on Bloomberg.