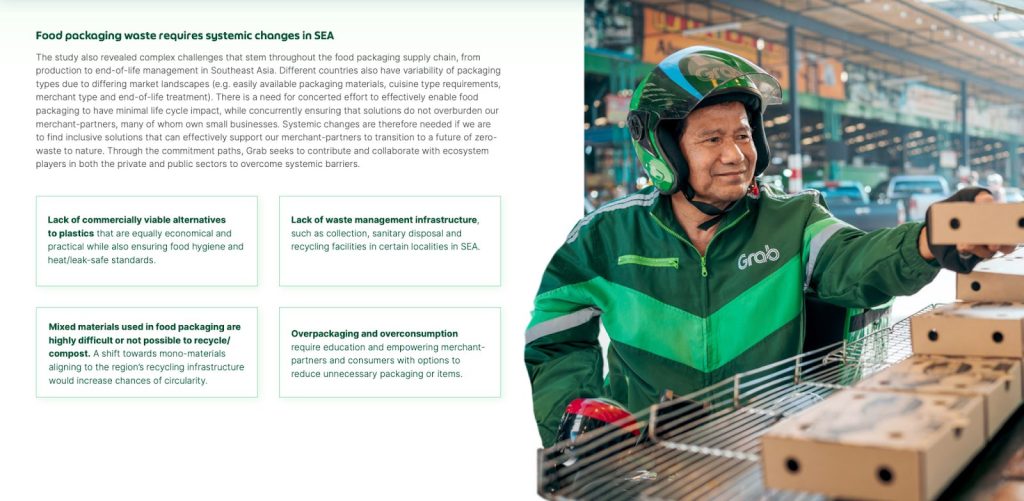 Going greener than ever
We use 500-backed super app Grab for many things, and one of them is food delivery – a convenience that unfortunately creates lots of waste. The team is changing that in a major way with their commitment to achieve zero packaging waste in nature by 2040!
Considering how much plastic waste is generated from food packaging, Cheryl Goh, Group Head of Marketing and Sustainability, said "Change has to happen throughout the value chain, and we are committed to proactively seeking and developing sustainable, inclusive answers. This means both being introspective, while working with other parties in the ecosystem such as regulators, packaging manufacturers, waste management firms, merchant-partners, and consumers."
So, how will the team achieve this? They have mapped out a two-phase approach: Phase 1 will focus on reducing overpackaging and replacing single use-plastics with compostables, and Phase 2 will focus on developing long-term scalable solutions to contribute towards a circular economy by performing proper waste collection and supporting the use of reusable packaging.
But Grab's green efforts are not something new. Since 2019, the company has been encouraging consumers to opt out of receiving single-use cutlery for their food delivery orders. Thanks to this initiative, Grab has saved more than 23,800 tonnes of waste to date.
This announcement is part of Grab's Environment, Social, and Governance (ESG) commitments. In 2022, the company reduced 48,000 tonnes of emissions through zero or low-emission modes of transport as well as through optimizations such as batched deliveries and shared rides. In Indonesia, Grab is the largest EV ride-hailing fleet operator.
Read the full announcement here.
Other stories you may have missed: